The intranet tools
We provide a set of tools with the intranet version:
Database synchronisation - to bring an intranet version up-to-date with a local version
Intranet database backup - can also be used to update stand-alone systems
Intranet link checking
All the tools work with the intranet while it is running. You don't need to take it down to use the tools.
We use a technology that works with intranet sites hosted on the internet.
Database synchronisation
You can choose to update your database directly using a browser. Alternatively, you can update the database using the maintenance program supplied with the desktop version, and use the synchronisation tool to bring an intranet site up to date.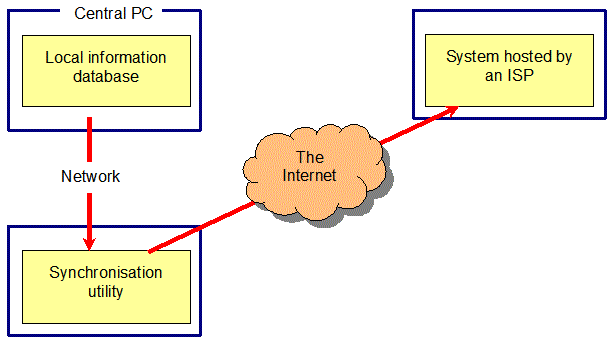 You maintain the database by adding, deleting and changing entries in a local copy of the database. Having made some changes, you can run the synchronisation utility to copy them to the database held by the ISP. People using the Local Information System on the internet will then see your changes.
In the diagram above we show the intranet site hosted on the internet. You can also synchronise with the intranet hosted inside your office network. That makes sense if you want to maintain the database at a different office to the one hosting the intranet site.
Intranet database backup
The backup tool makes Access database copies of a database held by the intranet.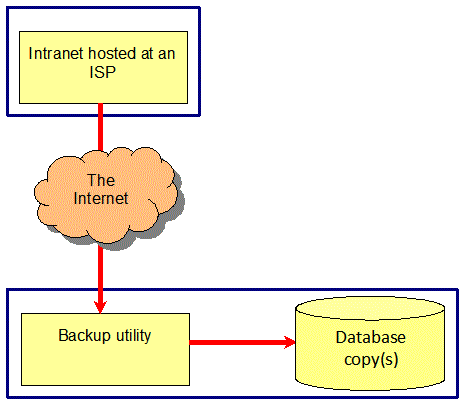 The diagram shows the tool working with a database hosted on the internet, but it works just as well with databases hosted in your network. The database copies can be made on the same PC that runs the tool or any other PC on your network. The tool automatically retains as many backups as you want.
You can use Windows task scheduler to schedule a backup to run daily overnight, for example.
You can also use the backup tool to update the database used by a stand-alone PC; for example: a laptop you take out to outreach sites without a connection to your system.
Intranet link checking
The link checking tool helps you check to see if the web links in your database are still working. It works in a very similar way to the web link checking tool in the desktop version.